G. and her husband, a couple in their mid 50's, from northern Israel, were living an average Israeli life. Married, with 2 adult children, they were doing well until illness struck. Recently, G.'s husband was diagnosed with a psychiatric problem that rendered him unfit to work. As a result, G., developed stress-related disorders, such as diabetes and heart problems, followed by a breast cancer diagnosis. She is now getting chemotherapy and neither spouse can work. They are barely making ends meet on their disability benefits, and they've gone into debt. Their financial situation is causing both G. and her husband, enormous stress, and their case was referred to the Lemonade Fund by G.'s social worker. It is important to note that many of our grant recipients recover from their illnesses and go on to rebuild their lives, financially. The Lemonade Fund was created to help alleviate crushing economic pressure that can hit even formerly solvent families as a result of a breast cancer diagnosis. It is our privilege to help.
One of the ways we express joy and gratitude on the upcoming holiday of Purim is through 'matanot l'evyonim,' helping the poor. Please consider a donation to the Lemonade Fund as your 'matana l'evyonim,' this Purim. Thank you.
https://lemonadefund.org/to-donate/
(This month's Profile is dedicated in memory of Vera Greenwald, a staunch supporter of the Lemonade Fund.)
Ingredients & Quantities
Hamentashen
1/2 cup (4 oz) natural margarine, cut into 8 pieces
1/2 cup (4 oz) shortening, cut into 8 pieces
3 cups (13.5 oz, 380 g) flour
1 1/2 tsp baking powder
1/2 tsp salt
1 cup (7.5 oz) sugar
2 ounces almond paste, crumbled into small pieces
2 teaspoons lemon zest
3/4 cup poppy seeds
2 beaten eggs
2-4 Tablespoons ice water
1 egg + 1 Tablespoon water, lightly beaten
lemon curd for filling (see below for recipe)
Meyer Lemon Curd
grated zest of 4 meyer lemons
3/4 cup fresh meyer lemon juice
3 yolks and 3 whole eggs
1 1/2 tablespoons cornstarch
1 1/4 cup (9.5 oz) sugar
1 1/2 tablespoons neutral vegetable oil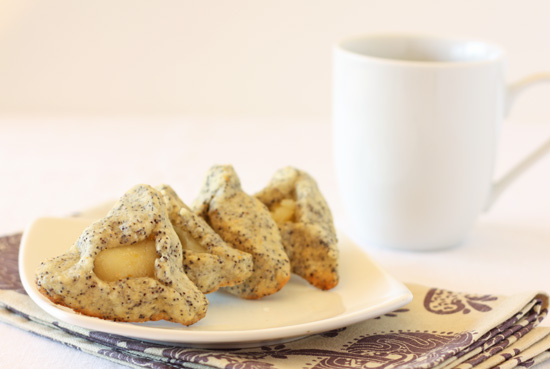 Preparation Instructions
Hamentashen
Pulse the flour, baking powder, salt, sugar, almond paste and lemon zest in the food processor until well combined. Add the poppy seeds and pulse to combine. Add the margarine and shortening and pulse until mixture resembles a coarse meal. Add the beaten eggs and pulse until combined.
Remove the mixture from the food processor and pour it into a large bowl. Sprinkle with two tablespoons of ice water and mix until it comes together into a ball. If the dough seems dry add the remaining water juice.
Divide the dough in half and roll each piece out between two sheets of lightly floured parchment paper. Stack the dough, with parchment attached, on a large cookie sheet and chill for at least 30 minutes, or until firm.
Remove dough from the refrigerator and cut into circles using a round cutter or the mouth of a drinking glass. Fill each circle with a small amount of filling. (For 2 inch circles use about a teaspoon of filling). Brush each circle with the egg wash and fold two sides together, pinching tight to make a corner. Fold up the remaining side to make a triangle with the filling showing in the middle and pinch the other two corners well. It is important that they are well pinched, so that they do not come open in the oven.
Bake at 350 until they are slightly firm to the touch, about 11 minutes.
Meyer Lemon Curd
Combine all the ingredients except oil in a saucepan. Whisk to combine. Cook, stirring constantly over medium-heat, until the curd thickens enough to coat the back of a spoon. Strain the mixture and stir in the oil. Place in the refrigerator to chill for 1-2 hours or until set. (Can be made up to 3 days ahead. Keep covered in the refrigerator.)